Bullet Mini Kit BMK500 + 2 FREE Microfibre Cloths
Bullet Mini Kit BMK500 + 2 FREE Microfibre Cloths
| | |
| --- | --- |
| Product Code: | BMK500 |
| Availability: | 838 |
Carnauba Quick spray wax kit
(500ml Carnauba spray wax + 2 free Microfibre cloths)
Bullet Carnauba Wax spray:
The quickest and easiest way to get Carnauba wax, the worlds hardest known natural wax, onto ALL the surfaces of your car, motorcycle, boat & aircraft.
On paintwork it produces a high and deep gloss. On other surfaces, that you would need an arsenal of products for, it produces a satin finish and NOT that "sticky" silicone "dashboard dressing" type shine.
A natural Carnauba wax, ideal for light cleaning, gloss and protection especially with vintage & classic paint types.
If synthetic spray sealants don't do it for you, why not try our Natural Carnauba Wax Spray?
This silicone-free product contains Carnauba Wax in a cleansing solution. That means it cleans, adds gloss and months of protection.Just one coat = 3months protection whilst 3 coats = 12 months gloss protection & water beading.

Perfect if 'silicone' is not what you want on your vehicle.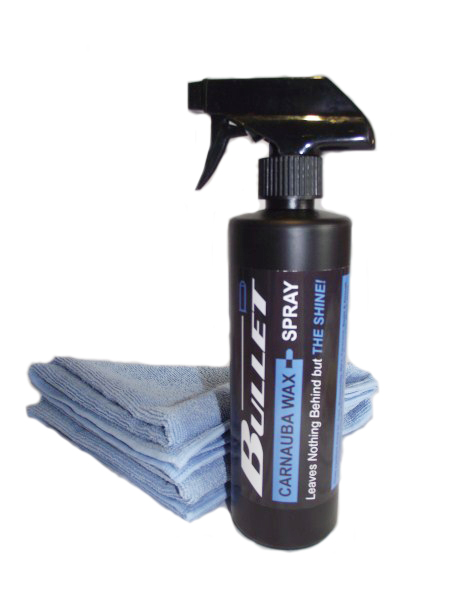 This product is silicone free & body shop safe*
Use our Spray Carnauba Wax on......
*Paintwork
*Leather
*Chrome
*Fibreglass
*Gel Coat
*Carbon Fibre
*Stainless Steel
*Mirrors
*Windscreens
*Glass
*Plexi-Glass
*Plastics
*Vinyls
*Coated Wood

...and so much more
KIT COMPRISES: 1x 500ml Trigger spray bottle & 2 superb Microfibre cloths
*Body shop safe means the product is silicone free and your paint stays on too!!
Please Note: When you place your order please can you fil in the "Where did you hear about us" bit. So we can see where you heard about Bullet. Thank You.