Home

News & Offers
Dull Paintwork Restoration made easy with New Eco-Gloss System
A REVOLUTION IN BOAT MAINTENANCE & LONG TERM CARE
ALL NEW MARINE ECO-GLOSS 3 STAGE SYSTEM FOR DULL PAINT ON BOATS
**ALL KITS TAKEN TO CRICK THIS YEAR SOLD QUICKLY, PEOPLE
ARE TALKING ABOUT THIS NEW SYSTEM**
Take a look at this video https://youtu.be/3R7w224QF8o
A 3 stage process for reviving your dull narrowboat WITHOUT having to remove the oxidation
& will keep it glossy, Hydrophobic & Oliophobic for between 3 to 5YEARS!
A Re-paint could cost up to £6,500.
OUR PRICE
UP TO 65ft NARROWBOAT WAS £123.91
NOW £103.91
UP TO 80ft NARROWBOAT WAS £220.00
NOW £200.00
Have questions?
RING JAMES ON 01299 896117
118ml Carnauba Wax Concentrate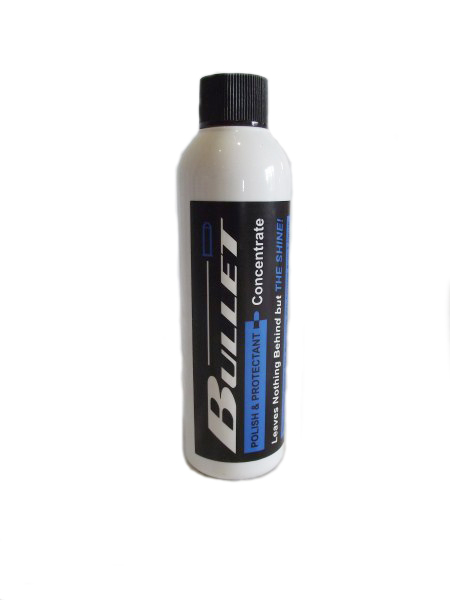 Bullet Carnauba Wax Concentrate
Our signature Carnauba Wax Concentrate, the hardest
known natural wax,in concentrate. 118ml of Carnauba wax makes
4 Litres of finished spray wax
suitable for 100's of surfaces
NOW ONLY £24.99 + P&P
THE BIG KIT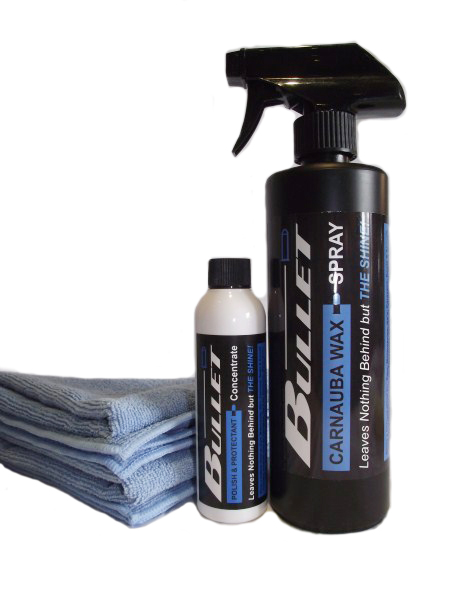 THE BULLET BIG KIT
118ml of Concentrated Carnauba Wax makes 4 ltrs ready to use spray Carnauba Wax PLUS Super trigger spray & 2 FREE 40cm x 40cm Microfibre cloths
Bullet Carnauba Wax spray:
A natural carnauba wax, ideal for light cleaning, gloss and protection especially with vintage & classic paint types.
If synthetic spray sealants don't do it for you, why not try our Carnauba Wax Spray?
This silicone-free product contains a high Carnauba Wax solids content, in a cleansing solution. That means it cleans, adds gloss and months of protection.
Perfect if 'silicone' is not what you want on your vehicle.
Please watch the video to see what we mean
ONLY £29.99 +P&P (£3.30)
4 LITRES OF SPRAY WAX FOR UNDER £35
357 COLOUR RESTORER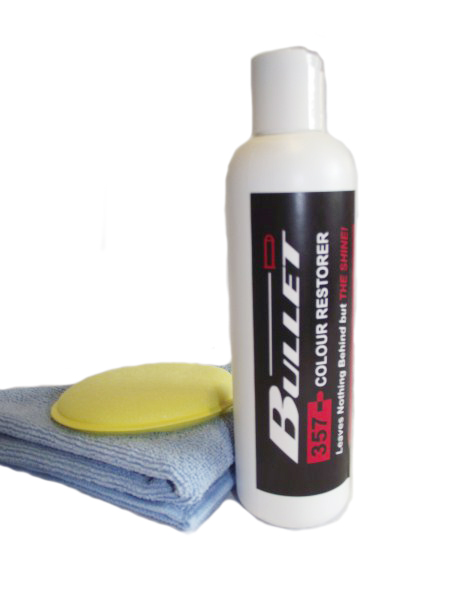 357 Colour Restorer kit.
Unlike T-Cut this colour restorer does not contain Ammonia or harsh cutting compounds.
It has a cut of 3 which on a scale of 1-10 is pretty mild.
Due to it's chemical composition it removes oxidation & up 3000 grit sand scatches easily without silicone or white residues to leave surfaces free of contamination, scatches whilst sealing and shining at the same time.
http://www.youtube.com/watch?v=XKv-uj25tSs&feature=youtu.be
Please watch the video to see what we mean
300g (250ml) is ONLY £17.57 +P&P (£3.30)
Enough to do 6 cars or a 75ft narrowboat
Premium Car,boat & caravan care products