Home

BULLET Q & A
Bullet Questions and the Answers
AUTO.( Scroll down for Marine & Bikes)
Q. If another polish or wax has been used on the car recently, is there any problem with using Bullet Polish products over the top of the existing products?
A. With the exception of RebootFX, No problems at all, although a good wash down of the vehicle is always recommended before applying Bullet Polish products. With our ceramics range & RebootFX we recommend that all waxes & sealants be removed prior to applying this product.
Q. With the metal polish is there any advantage in adding Hi-Shine
and/or the Carnauba spray wax on top?
A. Yes as it all adds to the layers of gloss & protection against UV rays & airborne polutants, although the metal polish does last quite a long time on its own. Clients tell us that the Diamond Brite shine lasts longer than other metal polishes.
Q. Would you apply the Crème Glaze on top of Hi-Shine after the 48 hour cure period?
A. There really is no need to as Hi Shine is a once a year product so it will water bead and shine for a year. It is also an entirely different product as there is no Carnauba in it just cross linked polymers. Crème Glaze has a slight cut (1) in it and we do not really want to disturb the surface of the Hi Shine once it has cured. We recommend that you apply our Carnauba spray wax once Hi Shine has cured as a maintenance regime.
Q. I'm assuming there's a different market for the Carnauba spray wax spray and Crème Glaze, with the traditionalist favouring the Crème Glaze?
A. Long answer… The Crème Glaze is a cross linked polymer with a Carnauba Wax fortification and with a slight cut to it therefore removes stains whilst being worked, then shines brilliantly when buffed.
The Carnauba spray wax is either a "Stand alone" product in its own right or can be applied over Hi Shine, 357, metal polish & Crème Glaze as a "Maintenance" product.
Q. How long does the Crème Glaze last on the vehicle? (on the basis the Carnauba spray wax lasts a few months)
A. Short but long answer… We know that the Creme Glaze will water bead and shine for up to 3 months. The Carnauba spray wax will give protection and water beading after just one coat for up to 6 months. When the spray wax is applied after the Creme Glaze this gives the surface a real depth of shine and long protection.
Q. I like the idea of the cut-o-meter on the Crème Glaze page. Do you have figures for the colour restorer and hi-shine?
A.Hi Shine has no cut in it; it is just a High Gloss Polymer sealant.
Bullet 357 has a cut of 3 on the cut-o-meter.
Marine
Q. My narrowboat paintwork is dull, why is this?
A. The reason for this question is the dreaded oxidation or stained paintwork possibly with a few scratches thrown in.
What is oxidation?
To help answer this without getting hugely technical I have an illustration here:
Q. How can I recover the gloss on my paintwork?
A. Bullet 357 Colour Restorer will, in most cases, restore the gloss to dull paintwork. However, if you have tried with other well known brands of cutting compounds before and it has not recovered then you may need a re-paint.
Please look at the video in the link below to see if yours is worse than this canal boat's surfaces.
http://www.youtube.com/watch?v=XKv-uj25tSs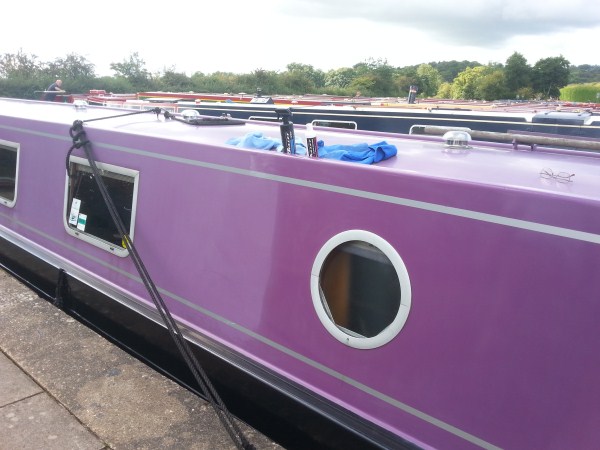 This one was recovered using 2 applications of Bullet 357 colour restorer then 1 coat of the Carnauba wax spray.
Q. What do I put on the paintwork after 357 & how many coats?
A. After using 357 Colour Restorer we find that our Carnauba Spray Wax (BMK500 KIT or The Big Kit))is the quickest & easiest top coat product that will enhance the results of 357 whilst giving you the resulting shine that you require and the protection of Carnauba wax, the worlds hardest known natural wax. The more coats you apply the deeper the shine and the longer the protection.
Q. The brass on my boat does not stay shiny for long, have you a polish that will make it shiny for longer?
A. Bullet's Diamond Brite Marine metal polish will shine dull Brass, Copper & Aluminium very quickly and the shine will last longer than most brands on the market. It will not leave any annoying white pasty residue either as it is a liquid polish.
Motorcycles
Q. I want an all weather protection, gloss & water repellant for the whole of my bike surfaces. What would you suggest?
A. Our Carnauba Wax spray is brilliant on all surfaces of the bike including the seat (No silicone so your seat will not be slippery), pipes & the outside of your helmet & visor too. Wipe it into & under even the surfaces you do not normally see and when dry will be a barrier to the wet for months. Once applied to the bike then the flies in summer just wipe easily off too.
Video of Clearview Visor Shine https://www.youtube.com/watch?v=xux8oA7fLTU
Q. My chrome work needs some good, long lasting metal polish to keep it looking great. What have you got for this?
A. Diamond Brite Vintage & Classic metal polish is all you need. It works fast on Chrome, Stainless steel, Titanium, Brass & Copper to bring it up to a high gloss finish and we are told by clients it stays shiny longer than other brands of metal polish.
If you have further questions about anything to do with car, bike or boat surfaces then please contact The Boss at:
james@bulletpolish.co.uk
There are no products to list in this category.