Home

WAX & POLISH
Welcome to Bullet Polish's Leisure section.
If you own a caravan, camper van or indeed a motor home you are in the right place.
It cost you a great deal of money and you want to keep it looking great.
There are many products on the market today that offer you a waterless wash solution once you are "on site" because everyone wants to look their best when set up on the site for the holiday.
They all look at your van to see who takes the most care after all don't they?
Beware of the waterless wash systems out there as they are mainly based on silicone. Silicone is BAD for your paintwork as it eats into it therefor if or when you have to have bodywork done then the job becomes really big as all paintwork has to be removed down to bare metal or the paint will not "stick".
Bullet polish products do not contain silicone.
Before the holiday season starts.
We suggest that you tackle the paintwork/gelcoat before the holidays start with our 357 colour restorer if things are looking a bit Dull. Then either Hi Shine or Carnauba Creme Glaze for a deep long lasting gloss finish.
When on site, use just a damp sponge to clean the vehicle and then a coat of our Carnauba Wax spray to make it shine on the site.
ALL OUR PRODUCTS ARE GELCOAT & PLEXIGLASS SAFE
The carnauba wax spray can be used to keep the inside looking brilliant too. On all cabinetry, mirrors and the shower room plastics.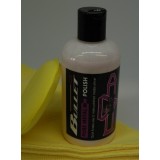 PURE METAL® PREMIER METAL POLISH Our Pure Metal® Premier Metal Polish is a quick & easy way to make Nickel Plated polished metals shine with a high lustre. Whether it's in the workshop or out at a show. Pure Metal® Premier Metal Polish is brilliant on Nickel Plate, V..
£15.99 &nbsp
Showing 1 to 1 of 1 (1 Pages)