Medallion Vintage & Classic Metal Polish Kit-250ml + (FREE CLOTH & Applicator pad)
Medallion Vintage & Classic Metal Polish Kit-250ml + (FREE CLOTH & Applicator pad)
| | |
| --- | --- |
| Product Code: | Medallion Vintage & Classic Metal Polish - 250ml |
| Availability: | 46 |
MEDALLION VINTAGE & CLASSIC METAL POLISH-250ml KIT

This Vintage & Classic Metal Polish is a quick & easy way to make polished metals shine with a high lustre whether it's in the workshop or out at a show.
Medallion Vintage & Classic Metal Polish is brilliant on Aluminium, Brass, Copper, Stainless Steel, Chrome & Titanium and the shine lasts longer than most leading brands on the market today.
This liquid metal polish makes cleaning metal far quicker & easier than using paste metal polishes or other liquid metal cleaners.
Medallion Vintage & Classic Metal Polish is brilliant on:
Aluminium,

Brass,

Copper,

Stainless Steel,

Chrome

Titanium.

Gold

Silver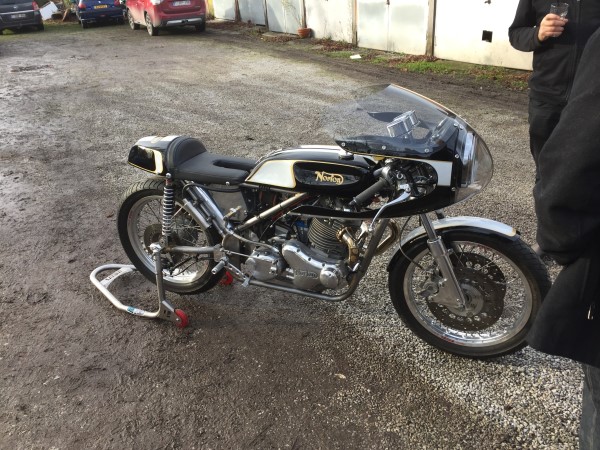 DIRECTIONS FOR USE:
Shake product well before flipping the cap as it settles out.
Put a small amount about the size of a 5p piece onto a sponge applicator or microfibre cloth.
Work well into the surface of the metal being polished. If oxidation is present you will have to work a bit harder. Once you are satisfied with how the work is looking, buff off with a microfibre cloth to a high shine. Repeat process as and when required.
Kit comprises:
1 x 250ml Medallion Metal Polish, 1 40cm x 40cm Microfibre Cloth & yellow foam applicator pad.
Please Note: When you place your order please can you fil in the "Where did you hear about us" bit. So we can see where you heard about Bullet. Thank You.