357 Colour Restorer Kit- 125ml or 250ml, + FREE Microfibre cloth & Applicator pads
357 Colour Restorer Kit- 125ml or 250ml, + FREE Microfibre cloth & Applicator pads
| | |
| --- | --- |
| Product Code: | 357 Colour Restorer |
| Availability: | 117 |
357 Colour Restorer
DULL PAINTWORK RESTORATION KIT
357 Removes oxidation,Cleans, Polishes & Seals
ONE OF THE BEST PAINTWORK RESTORATION POLISH ON THE MARKET TODAY.
Before you read on please watch our short video on this product: http://youtu.be/XKv-uj25tSs
THIS 250ml BOTTLE WILL RECOVER A 75ft NARROWBOAT BOTH SIDES & BOTH ENDS.
IF YOU NEED TO DO THE ROOF AS WELL THEN PLEASE CONTACT US SO WE CAN ADVISE ON AMOUNTS NEEDED.
Dull & lifeless paintwork?
Easily restore paint to a high gloss with 357 Colour Restorer. (Ammonia Free)
357 is not as Harsh as other compounds and it is quicker and more effective than those compounds.
This unique polish/Restorer not only imparts a dazzling gloss, it will also remove buffer swirls, micro-surface imperfections and oxidation. Removes 3000 grit sand scratches and similar substrate imperfections. Buffs without gumming or clogging pads. Contains no silicones or waxes. Leaves a non-oily mirror-like finish. Dust free. Complies with VOC regulations.
*250ml (300g) will restore a narrowboat up to 75ft long, Both sides only.
CUT-O-METER: NO CUT < 0 1 2 3 4 5 6 7 8 9 > HEAVY CUT
LIGHT WAVES BEHAVIOR ON OXIDATED & GLOSS SURFACES: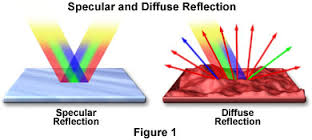 Light reflects in one direction on gloss surfaces but scatters in all directions with a dull. oxidated surface.
357 COLOUR RESTORER Removes:
Oxidization

Water Marks

Bird Lime staining.

Spider webs,

Holograms,

Towel marks,

Swirls . . .
Kit comprises:
1 x 250ml bottle 357 Colour Restorer, 1 x 40cm x 40cm Microfibre cloth & 2 x sponge applicator pads.
Product Information
Available in :
- In Stock
Size: 250ml
Quantity: 1
Please Note: When you place your order please can you fil in the "Where did you hear about us" bit. So we can see where you heard about Bullet. Thank You.